GREAT LAKES EXPLORER : CLASSIC AMERICANA
8 DAYS / 7 NIGHTS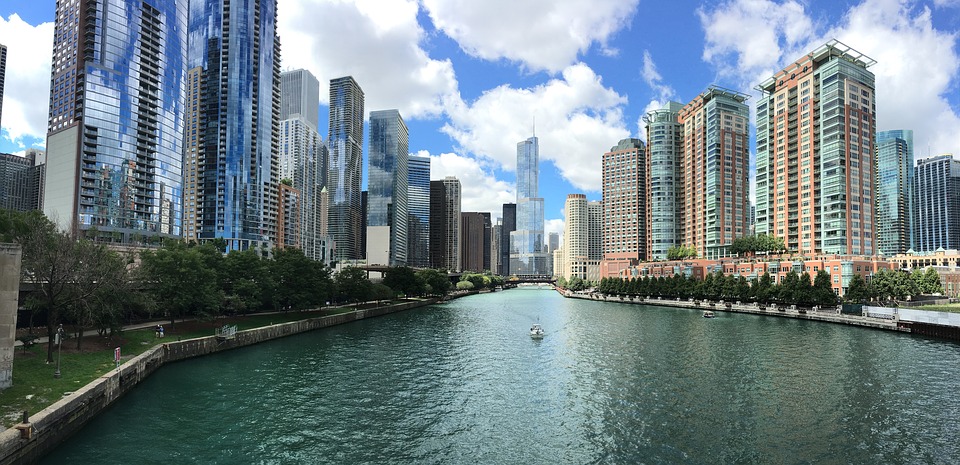 Chicago - Chicago Architecture Foundation's architectural River Cruise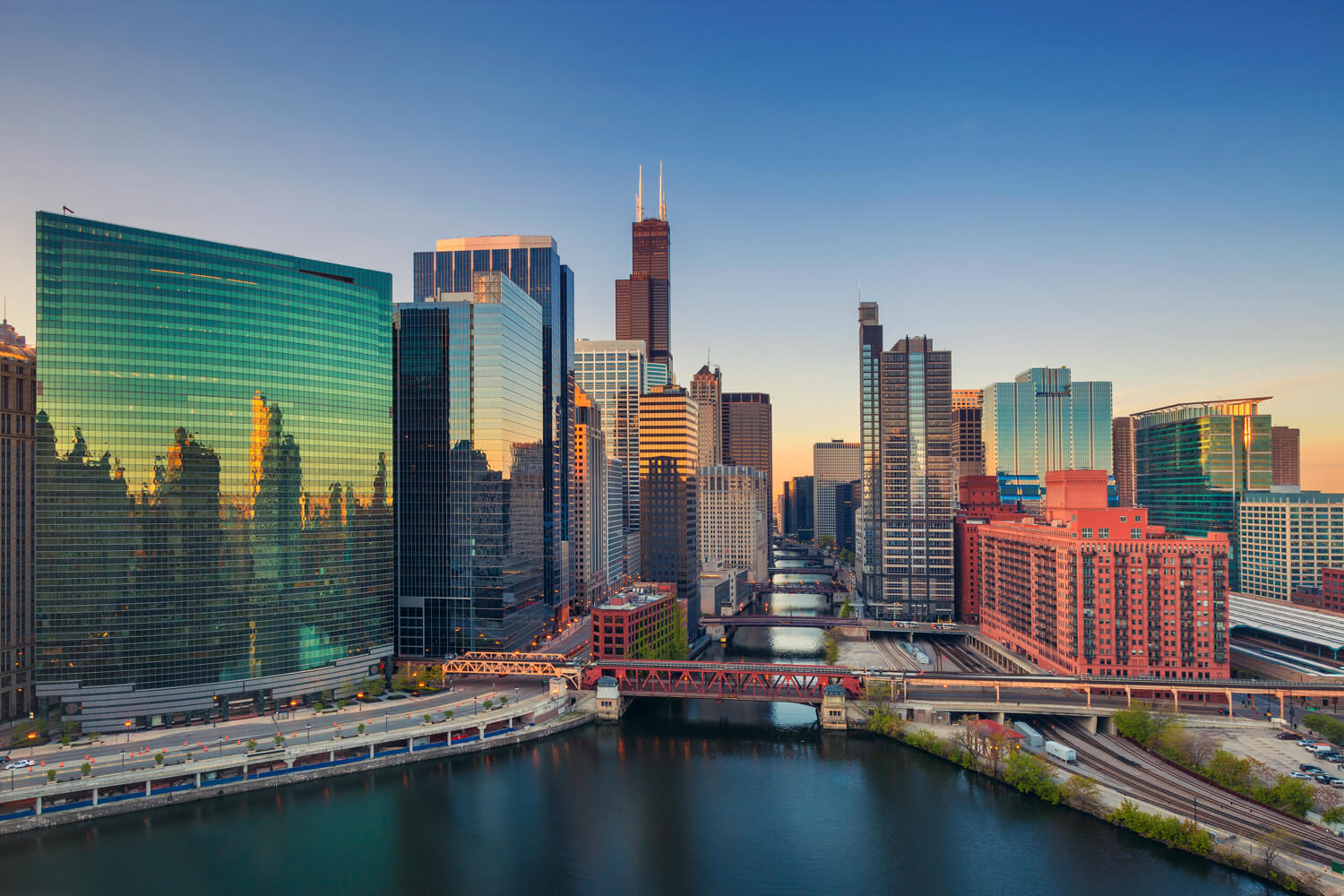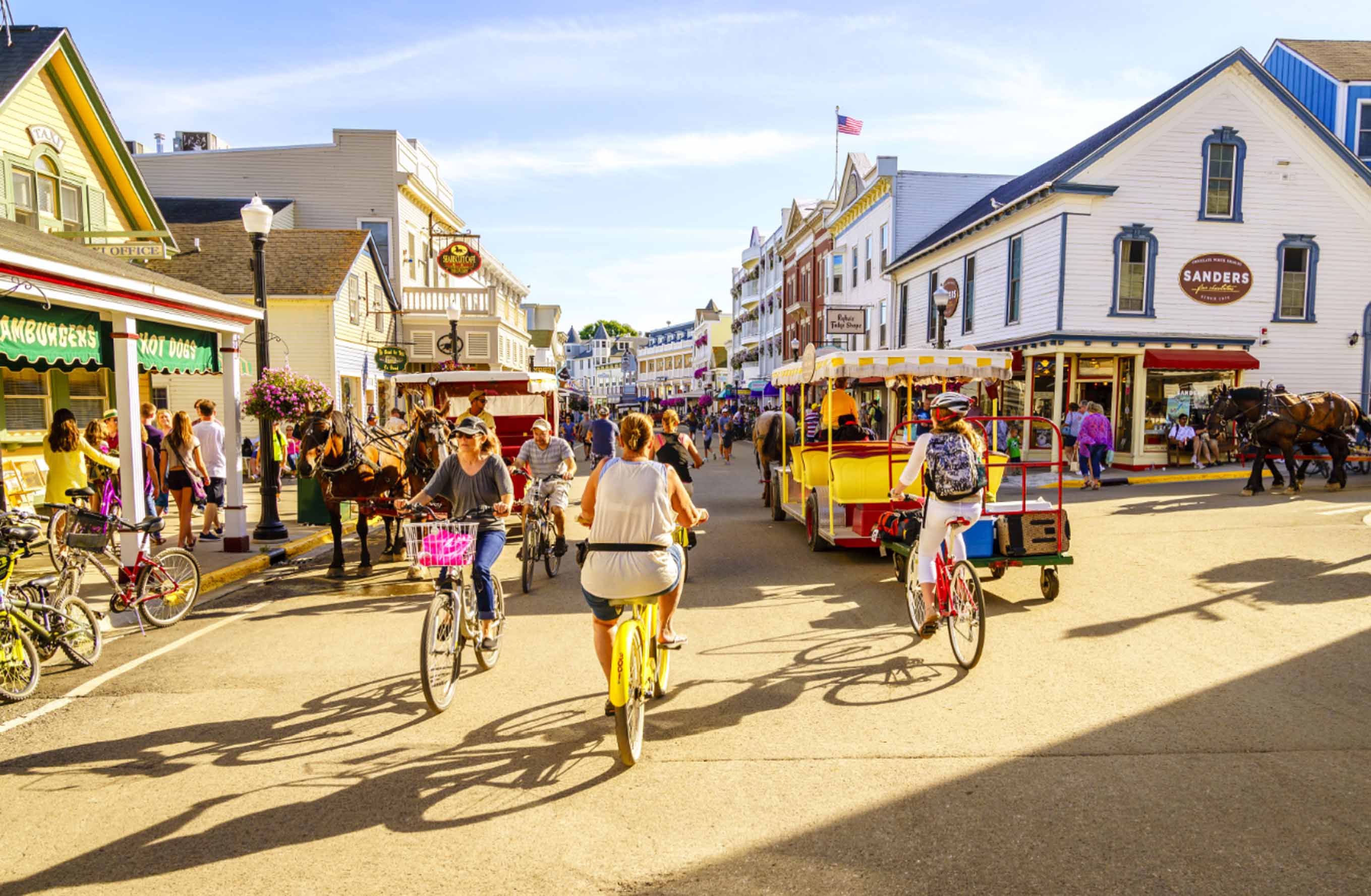 Aerial view of Traverse City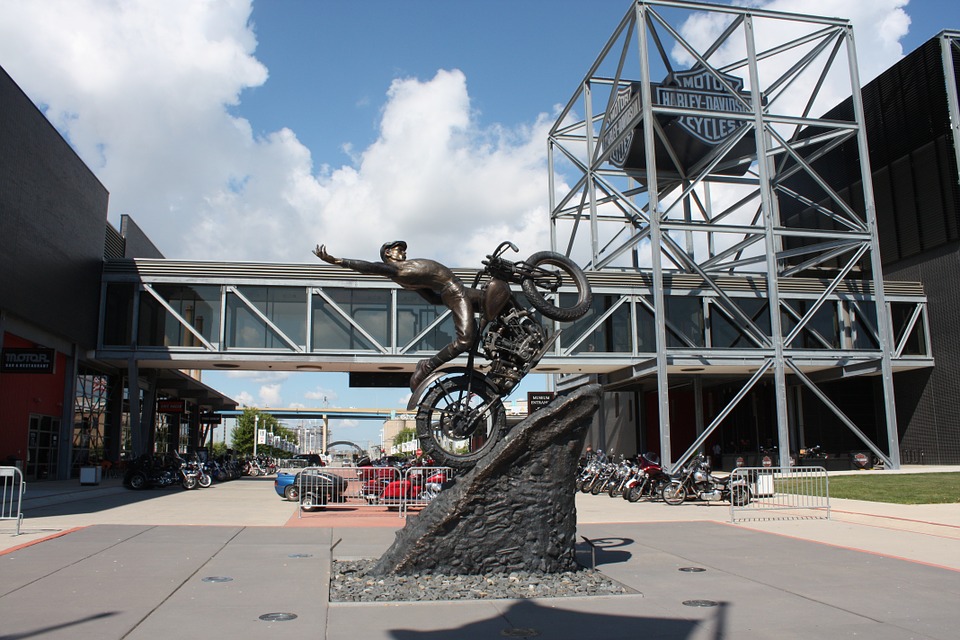 Milwaukee - Harley Davidson Museum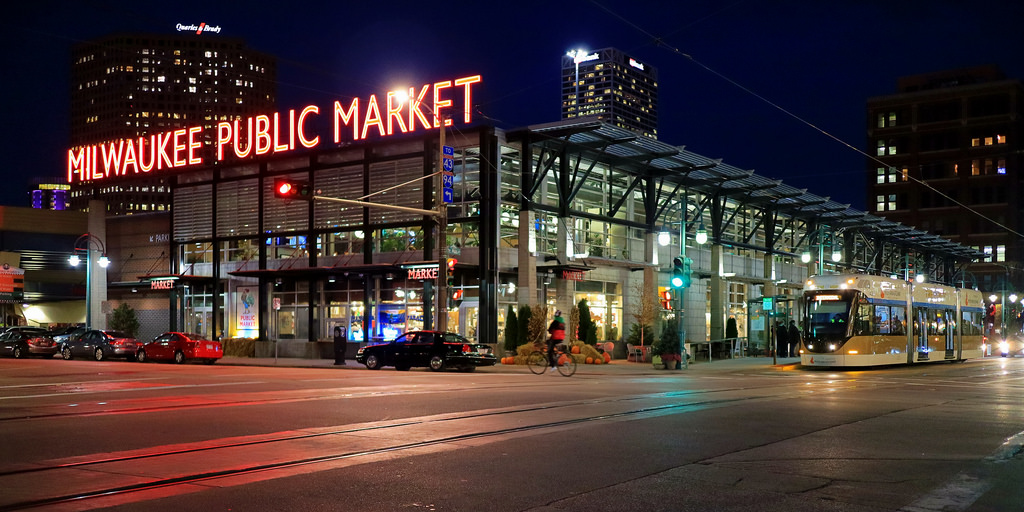 Milwaukee - Public Market
DAY 1
Chicago
Check-in to hotel. This evening, mingle with other group members at a meet and greet reception hosted by our Tour Manager, a destination specialist. We'll be given an introduction to our 8-day exploration of the Great Lakes.
---
DAY 2
Chicago
Chicago, situated on Lake Michigan, is among the largest cities in the U.S and is famed around the world for many things, including its bold architecture, blues musicians and clubs, deep-dish pizza – and Al Capone.
There's no better way to tour Chi-town, as it's called, than on the Chicago Architecture Foundation's architectural River Cruise. But we won't take the ordinary river tour—we'll board an exclusive CAF photography river cruise, designed for the photographer, or photographer at heart.  You'll have access to all angles while the local, highly-trained docent points out architectural highlights along the way.
This afternoon, choose between excursions. If you like sin with your suds, then join our walking tour and learn the basics of Chicago's sinful history, all the way from the city's first vice district to Capone, Prohibition and the mob. Explore the basics of different beer styles and beer's influence on criminal enterprises, especially during Prohibition. You'll taste several Midwestern craft beers from lagers to porters.
Or choose to glide along the Lakefront on your very own Segway, through the fragrant floral paths and rose gardens of Grant Park to the Museum Campus. If you can stand, you can learn to use a Segway. Knowledgeable guides explain the culture and history of the area and massive museums.
Tonight, Kingston Mines is on the menu. Founded in 1968, Kingston Mines is the largest and oldest continuously operating blues club in Chicago. Its two stages have been graced by the likes of Magic Slim, Billy Branch, Junior Wells and scores of other musical greats. We'll listen to some of Chicago's best live music – and remember their motto: "Hear Blues – Drink Booze – Talk Loud – You're Among Friends!" ™ You may want to eat before we go, or save your appetite for the southern style fare you can get onsite from Doc's Rib Joint.
---
DAY 3
Chicago – Holland – Mackinac Island (413mi/664km)
We'll depart Chicago this morning for Mackinac Island, stopping to visit the beaches of Holland  along the way. On the shores of Lake Michigan, the Dutch heritage is plain to see in the traditional Dutch architecture and ambiance. Stroll through the quaint downtown and enjoy its galleries, shops and eateries.
Upon arrival in Mackinaw City, we leave our vehicle behind and board the ferry to Mackinac Island. This Victorian-style island, covering only 3.8 square miles (9.8 km2) in land area, is located on Lake Huron at the eastern end of the Straits of Mackinac, between the state's Upper and Lower Peninsulas. The entire island is listed as a National Historic Landmark and is well known for its ban on all motor vehicles and the wide variety of architectural styles, including the Victorian Grand Hotel.
---
DAY 4
Mackinac Island
This morning, as part of the included touring, you can explore Mackinac Island your way.Bicycles and horse-drawn carriages are the only modes of transportation here. You can pick up a bicycle – or adult tricycle – and gear, along with trail maps guiding you on various routes throughout the island. Take the perimeter route to loop around Mackinac Island's shoreline. The flat, smooth asphalt road places you right between dramatic forestry and the rocky shores of Lake Michigan and Lake Huron with majestic views of their deep blue waters.
For the more adventurous, take the "immersive experience" tour to see Mackinac Island's points of interest such as Skull Cave, the Grand Golf Course, Arch Rock, Governor's Residence and Fort Mackinac.
Or, you may want to sit back and relax on a guided horse-drawn carriage instead. See many of the island's  sites with stops along the way.  The afternoon and evening are free to enjoy as you wish.
---
DAY 5
Day 5 Mackinac Island— Leelanau Peninsula—Traverse City (102 mi/ 164km)
You will have some free time on the island this morning before we board the ferry back to the main land. On the way to Traverse City, we will stop in the Leelanau Peninsula. Here we visit some of the peninsulas noted wineries. We'll discover breathtaking views and stylish wines as well as their passionate winemakers.
We will continue on to spend the evening in Traverse City. The downtown exudes retro charm with plenty of fresh farm to table restaurants and big-city entertainment with a small-town feel.   You may want to take in a show, the opera or live jazz.
---
DAY 6
Traverse City – Lake Michigan Crossing – Milwaukee (251mi/ 404km)                    
Heading south today, we'll stop to taste some of the local craft beers. Bolstered by the Great Lakes and nurtured by the glacier rich soil, Michigan is a brewer's paradise with countless varieties of styles and tastes. It ranks fifth in the nation in the number of breweries, microbreweries and brewpubs.
Enjoy an included lunch before the late afternoon ferry crossing across Lake Michigan to Wisconsin.
Tonight we visit Milwaukee's most unique downtown food destination, the Milwaukee Public Market. Bursting with unique, high quality selections of artisan and ethnic products, and freshly-prepared foods, you'll have a wide variety of dinner options from its independent merchants. Enjoy your selection in the Market's Palm Garden.
---
DAY 7
Milwaukee
Once known almost exclusively as a brewing powerhouse, the city now boasts the beautiful Milwaukee Riverwalk and Milwaukee Art Museum, with its architecturally impressive addition shaped like a floating cross, with wings opening and closing from a central base.
This morning we'll tour past the elegant mansions along Lake Michigan with numerous photo opportunities at the city's most unique landmarks, as well as several stops where you can interact with locals and experience the city as they do.  We'll take in City Hall, the Milwaukee Art Museum, North Point Lighthouse, Miller Park, the Historic Third Ward and much more.
This afternoon we'll visit the Harley Davidson Museum. "It's the best of American design and culture – seasoned with freedom and rebellion, showcased in a landmark building."  Exhibits tell the stories of the extraordinary people, products, history and culture of Harley-Davidson and for some of you, this is the moment you've been waiting for. That's right, go ahead and swing your leg over one of the many motorcycles that inhabit the gallery.
You will enjoy an included  final night dinner at a downtown brew pub.  New breweries have been popping up like weeds in Milwaukee over the last couple years;  "beer isn't just a drink in Milwaukee, it's a way of life,  and that's how they like it!"
---
DAY 8
Milwaukee – Oak Park – Chicago (105mi/170km)
After departing Milwaukee we arrive in Oak Park, once the home of Frank Lloyd Wright where he designed and built some of his earliest buildings. Unity Temple and Wright's own former home and studio are among the many Wright buildings still preserved in the village. We'll tour the Wright home and see the birthplace of Ernest Hemingway before time for lunch in the village.
Passengers can be dropped off at Chicago's O'Hare airport or  downtown Chicago.
INCLUSIONS
• 7 night Accommodation
• Welcome Reception
• 1 Lunch
• 1 Dinner
• Transportation via air-conditioned small Coach, Sprinter or Van
• Professional Driver/Guide
• R/T Mackinac Island Ferry
• Lake Michigan Ferry
• Sightseeing to include:Chicago Loop, Holland, Traverse City, Mackinac Island, Milwaukee, Oak Park, Leelanau Peninsula, Milwaukee Public Market, Harley Davidson Museum, Frank Lloyd Wright Home & Studio
• Experiences to include: Chicago Architecture Photography River Cruise, Chicago Sin & Suds walking tour or City Segway tour, Night at Kingston Mines Blues Club, Winery tour & tasting, Half-day Bicycle for self-guided tour OR Horse & Carriage tour, Craft Brewery tasting, Brew Pub dinner in Milwaukee.
HOTELS*
Chicago             Palmer House Hilton
Mackinac Isl      Lake View Hotel
Traverse City     Indigo Hotel
Milwaukee         Aloft Downtown
*Similar hotels may be substituted on certain dates